Horse racing has been a popular sports event since its beginning that dates back to Ancient Roman, Greek, and even Babylonian times. This industry is now worth a billion pounds and it's as strong as ever, with fans from around the world cheering at racecourses for their favourite horse to win and constantly browsing the web for today's horse racing betting odds. Let's find out some of the reasons why horse racing is one of the most attended and most bet sports.
1. It is a Proper Social Event
Unlikely other sports, horse racing encompasses more than betting per se, it is also a glamourous and an exclusive event and, in many cases, it requires a specific dress code, and who doesn't love to dress up once in a while? Furthermore, it is strictly linked to the excitement bettors experience when they attend a race, especially when they consult with each other to come up with a strategy and eventually choose which bets to place. It is known that horse racing offers a large variety of bets, like Win Bets, Each Way Bets and Forecast Bets, just to mention a few ones. Also, horses are royal animals and those who love horses, enjoy even more watching them compete for the top places, and wagering on who the winner/s might be, is seen as the natural thing to do.
2. Abundance of Information
Touching again on the subject of strategic betting, horse racing punters feel that they have higher chances to place tactical stakes and possibly win, as they have easy access to plenty of information about the horses, the jockeys and the actual racecourses. You can gather all you need about a horse race online, via mobile applications and niche newspapers. The information can be so detailed down to the breed and age of a horse, the years of experience of a jockey, not only their usual statistics on wins and losses.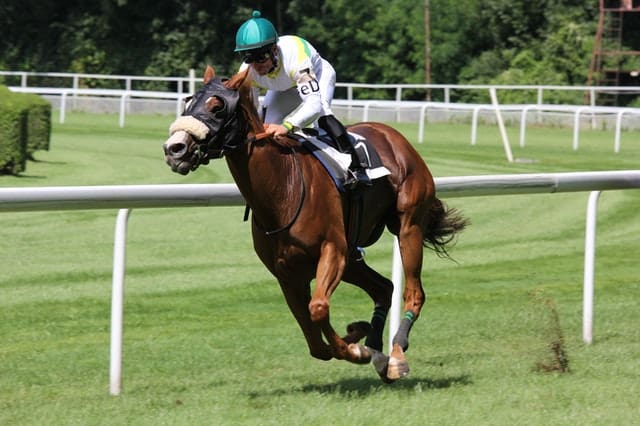 3. The Results are Fast and so is the Return
One of the main factors that make horse racing still so popular, is probably the fact that the races last on average 13 seconds each, and both the results and the winnings are quickly revealed. No other sports can achieve this, with the exception of greyhound racing, which happens to be very similar to horse racing. Indeed, punters who like horse racing often happen to be fond of greyhound racing too, and vice versa. Some betting bonuses even combine them together, like the ones here.
Both horse and greyhound races are perfect for those gamblers who have very little patience or don't have enough time during the day to go to high street betting shops to place their bets. Nowadays, thanks to mobile betting, everyone can quickly use a browser and place bets directly from a mobile application, as most the sportsbook makers heavily invest in user-friendly mobile apps.
In more recent years, millennials, and the younger generations, have been a constant target of horse racing events and festival organisations. That has highly contributed to the ongoing success and steady popularity of this thrilling sport that seems to have no intention at all of slowing down.