Horse racing betting is one of the most challenging games to master, and the only way to be profitable over the long haul is via hard work and perseverance. If you want to be successful, you must develop a long-term mindset, which includes not over-celebrating individual victory and not becoming too depressed when circumstances aren't going well.
Even though gambling is enjoyable and thrilling, establishing a plan is the best way to increase your chances of winning more than you lose. So, here are a few insider strategies to help guide you to success when it comes to horse racing betting.
Speed Figures
Speed figures determine how fast a horse runs and are measured using a complex algorithm that rationalizes running times throughout all tracks, surfaces, and distances. And it is undoubtedly the most widely used metric today, mainly by bettors to evaluate which horse has the highest likelihood of winning a race.
The speed figure can be used to eliminate horses from the race and identify the genuine contenders. Thus, knowing about speed figures is vital when you learn more about betting to win some cash.
Track Conditions are Vital
You must be aware of the track conditions and be fully ready for them to change. For example, if the track is muddy, it will definitely affect the horse, or even if the humidity is higher, the ground will become more saturated, which will also affect the horses.
So, keep the track conditions and potential track conditions in mind. Furthermore, consider how each horse and jockey have performed in similar circumstances and factor it into your predictions.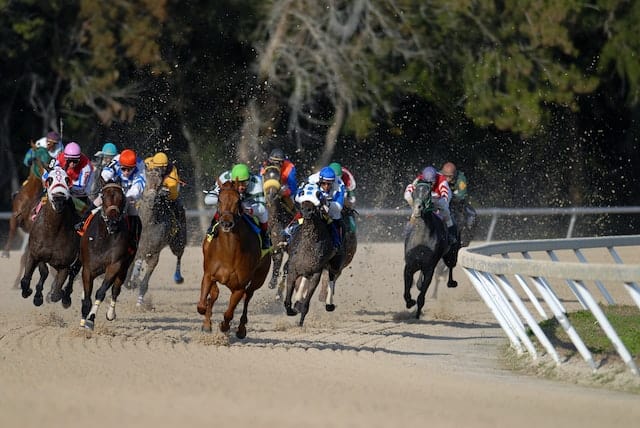 Shop for Odds
Odd shopping is all about finding numerous horse racing betting sites and making comparisons of their odds for a specific horse. Different racebooks will provide different odds on the same horse races, and shopping for odds is especially important when betting online.
Check the odds for each racebook where you have accounts before placing a bet. So, if you're serious about earning money through betting on horses, spend the extra few seconds to check the various lines.
Jockey Experience
For some reason, many complete beginner horse racing bettors place all of their emphasis on researching the horse and overlook the importance of the jockey in the pilot's seat. Besides, once proven themselves, the finest jockeys are usually given the best horses to ride, so you don't have to become a master of riding styles to figure out who the best riders in the business are.
Keep in mind that the best jockeys in the world can win throughout most races, but look into the stats to determine whether some riders are better during certain tracks, over some of the distances, or at a particular level. In conclusion, ensure to examine their record, followed by their record and expertise with the horse they are riding and the track where they are racing.
Horse's Past Records
When betting on horse racing, it is critical to research the horse's history. There are numerous factors to consider, including the horse's experience and track record, whether they've raced on that track before, have won previous competitions, and if the horse has previously been injured.
It is strongly advised to examine each horse in the race, but if you are short on time, you could perhaps most likely get away with examining only the top four to five horses that are odds-on favorites. However, if you take horse racing very seriously, you should examine each horse in the competition.
Bankroll Management
Among the most critical aspects of a profitable horse, betting is the ability to manage your money and regulate your staking. Although it may appear tiresome, and you may feel similar to an auditor than a gambler at times, turning away from your betting plan, whether under or over staking, can indeed be extremely dangerous.
There are numerous staking plans available, each with its own set of disadvantages and advantages. However, as with so many aspects of horse betting, finding a method that matches your betting style is vital if you want to succeed.
Know When to Stop
Sports betting, such as horse racing, requires knowing when to stop because it is a risky venture. You cannot expect to win every time you place a bet. Furthermore, you will sometimes lose money, a normal part of the betting experience.
Besides that, many people become deeply invested in the thrills of horse racing and risk ending up losing more money than they can manage. If you find yourself in that kind of situation, you must walk away, take a break, and remember only to bet on what you can bear to lose rather than chasing your losses by placing bets on more than you can afford.
Final Thoughts
Take it slow and focus on creating a winning system. You'll need to work on optimizing your process, whether it's using a mathematical formula you devise or eyeing winners. Remember to always place bets wisely and don't wager more money than you can afford to lose.