The American Economic Association now has JEL classification codes for Sports Economics and subareas within the field.  Here are the codes:
Z2  – Sports Economics
Z20  – General
Z21  – Industry Studies
Z22  – Labor Issues
Z23  – Finance
Z28  – Policy
Z29  – Other
In an email from Peter Von Allmen, the president of the North American Association of Sports Economists,  even though the codes will not be up on the AEA website for awhile, researchers can begin using these codes immediately to classify their research.
It wasn't all that long ago where Sports Economics research wasn't taken as seriously as research in International Economics, Labor Economics, Industrial Organization, etc.  This is not to say that there have been no economists who have taken sports economic research seriously over the years and no important contributions from the field to Economics as a whole.  Many Sports Economics papers have been published in top tier journals over the past half century.  The field has its own journal, the Journal of Sports Economics, and many journals have published papers in Sports Economics.  However, in many circles, sports economics research was seen as fun research and not something that serious researchers would pursue as their main area.   These codes are validation that Sports Economics is not just fun.  It's an interesting and important field within the discipline of Economics.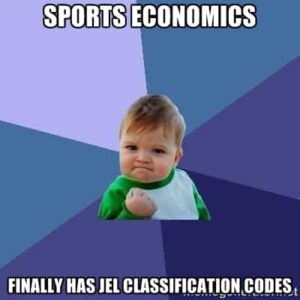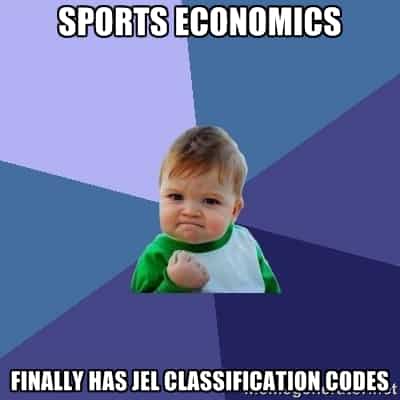 Thanks to all who worked to get this done, particularly Tony Krautmann who got the ball rolling last summer by suggesting this at last summer's NAASE meeting at the WEAI's.
Update: I forgot to give a HT to Peter Von Allmen.