While it might be harder to run and jump these days, that doesn't have to mean you're done with sports. In fact, physical activity is very important to remaining in good shape, preventing aches and pains, and maintaining your energy. And now that you likely have more free time, what better opportunity to pick up a new sport as a hobby. Contact sports might be out of the question, but there are still plenty of options for physical activities that are great for your all-around health.
To help you make the best decision, we've created a list of our top 5 recommendations for sports that can be played well into your old age:
Running 
Running provides a full body workout, burns a lot of calories, and can help lower high blood pressure. Plus, it can be done virtually anywhere, whether you prefer heading to the trail at your local park or the simple efficiency of your neighborhood. Or, if you're especially worried about protecting your knees and joints, you could run on the treadmill at your local gym, which is gentler on the body. A good pair of long distance running shoes will also help prevent injuries and can help improve your performance if you're on the more competitive side.
Regular walking and jogging can also provide a lot of the same benefits of running if you need an exercise option that's less rigorous.
Swimming
Swimming is a great workout not only because it benefits both your muscular and cardiovascular health. In fact, since water is so much denser than water, it can arguably be an even better workout for your muscles because your body has to work so much harder. But the best part is, is that it's very gentle on the body since it's easier to move in the water. For this reason, swimming is an excellent choice for those who have arthritis.
And, it can be a great opportunity to meet other seniors since most towns have their own centers with swimming pools—often with discounted rates.
Golf 
Golf is a popular option for mature sports lovers, not only because it's a great opportunity to socialize but it's actually a decent means of exercise. While it isn't necessarily a high-intensity workout, it has it's unique benefits. From helping with flexibility and building up strength, especially in your arms, you'll get a muscular workout. And, one health aspect that many people don't think about is the fact that golfing actually requires a lot of walking. And, if that's not enough of a reason to take up playing golf, it's also a mental workout since you need to concentrate on how and where you're hitting the ball.
To bring your A-game to the course, consider investing in the right equipment. For example, longer drivers can help you hit the ball farther. Getting fitted for the right clubs for your height is also a good idea.
Tennis 
Like golf, tennis is a sport that helps keep your mind and body healthy because it requires strategy and endurance. Tennis is also considered to be a great source of aerobic activity and can especially benefit your heart and lung health. If you're worried about cardiovascular disease, high blood pressure, or limited mobility as you age, tennis may be a good way to help lower your risk of developing these issues. Plus, it's a good way to bond with your spouse by having them play as your partner, or as your competitor.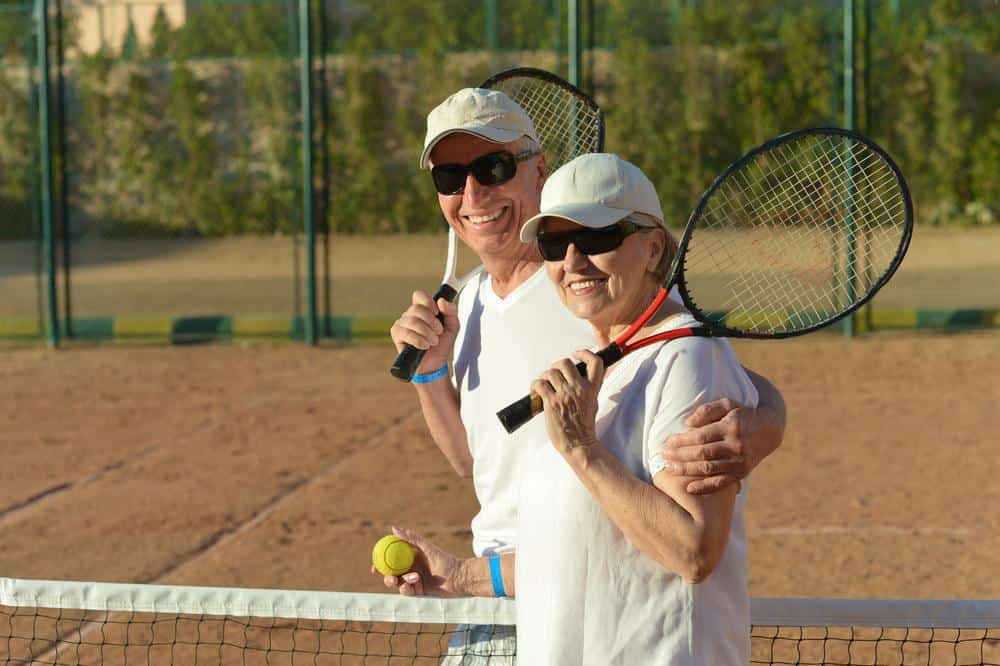 If you try it out and find that you like it, you should pick up the right gear to make it as enjoyable as possible. You'll need a racket, balls, sweatbands for your wrists and forehead, absorbent tops and bottoms, and tennis shoes that provide lateral support.
Racquetball 
Racquetball is all about agility which means it can help keep you flexible while also helping to maintain your cardiovascular health. Plus, it can be played alone or with multiple players, making it a great opportunity to combine your social life and exercise. It can also help with hand-eye coordination, so it can be beneficial for those with Parkinson's disease or other conditions that affect muscle control.
When playing racquetball, protective eyewear, gloves, and shoes with good traction are essential to protect yourself from the ball that will be flying at high speeds. SmartBuyGlasses is Canada's most trusted online eyewear retailer, and with one of the largest selections of styles, you're sure to find your perfect pair of glasses. SmartBuyGlasses has also a 3D Try-on Software, you can try on the glasses you like before the order and see how they look like on your face. Shop from the comfort of your home. SmartBuyGlasses offer you 24-months warranty, FREE shipping and they guarantee you the best price in the market.
Whichever way you choose to exercise, make sure you remain aware of your body's signals. You might experience discomfort as your body adjusts to playing sports again, but there are ways to manage the transition, from CDB oil to scheduling regular massages.  And, if you have any high-risk health conditions, it's usually a good idea to speak with your doctor before making any major changes to your exercise routine.