Whether you're heading to a race festival or are betting online, it makes sense to know what to look for in the betting statistics! Thankfully, this is where a race card comes in handy. No matter the race and no matter your bet size, this card is going to break down everything you should know about the chase that's set to unfold.
Reading a race card is simple once you get the hang of it. Whether you're keen to get into Royal Ascot Bets or prefer checking out weekend meetings, it pays to know what to look for from card to card. Keep reading, and we will fill you in on everything you need to know.
Your race card – the basics
So – the main points you will normally see on a race card first will let you know the time of the race, where it's taking place, and how long the distance is.
You'll also find the grade of class in terms of the hunt and the flat. The lower the number of the class, the better the runners. Your race card will also tell you how old the horses in the race will be, as well as what their official ratings can be to take part.
You'll find that the number of runners taking part is also listed, as well as the track condition. This is referred to as 'going' on a race card. This can sometimes list as St (standard) or Slw (slow), but there are Heavy to Firm ratings, too. This scale will tell you from slow to fast the sort of pace you can expect from the horses at this given meeting.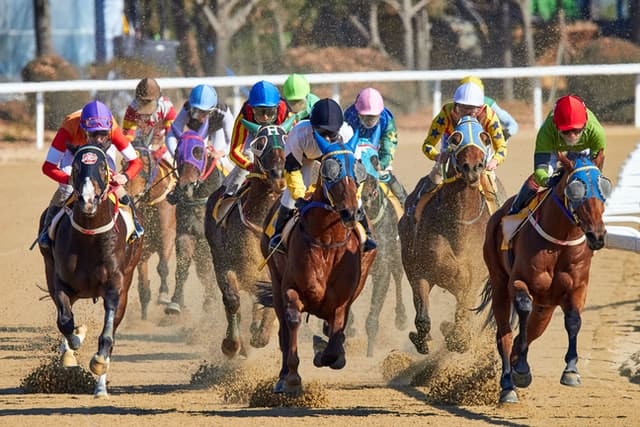 What about the runners?
When it comes to the runners in the race, your race card will also give you some useful abbreviations to pay attention to. For example, there is normally a six-digit number. This may seem like a jumble, but it's the runner's last six placings from oldest to newest (newest being the last digit).
There are a handful of letters and symbols to look out for, too. 'P' means they didn't finish a race, 'F' shows they fell. 'R' shows they refused to jump, 'L' means they got left at the start, and 'O' means ran out. A hyphen (-) in the code will mean that there's been a gap in the seasons. A slash (/) will indicate that there's been two or more seasons' gap.
A 'B' will tell you that the horse is wearing blinkers, 'e/s' shows they are wearing an eye shield, and 'h' indicates a hood. A CD rating, too, will tell you whether this horse has run on this course before, and whether they have won it! Cs and Ds may appear separately.
Further numbers may also tell you how long it's been since a horse last run, their age, weight in stones and further in pounds. You'll also see the name of the jockey and trainer.
This, of course, is just the beginning – there's more detail to the race card than you might expect! However, take these basics and get started brushing up on your racing knowledge for safer bets. Sports betting is still growing – meaning more and more bettors are clamoring to get ahead on the fine print.