Kevin Wayne Durant, also known as KD, is one of the greatest players in NBA history. After realizing at some point in his teens that this is the sport he will make his legacy, Kevin started training. And he trained hard. As a pro, he started in Oklahoma City. Then in 2016, he moved to Golden State. Here he won two back-to-back championships in 2017 and 2018. Next year the Star of San Francisco will be a free agent, as his contract will end.
The real MVP
Kevin Durant was born and raised in Washington, D.C, in a family with a difficult financial situation. He had a great desire for a good life. When Kevin was one, his father left the family. Durant was raised by his mother, Wanda Pratt, and her mother, Barbara Davis.
Unfortunately, Kevin's childhood story was very similar to those of other sports stars. His family always had money problems. KD's mom was constantly working, but she could only afford a residence in low-level neighborhoods. In those years, Kev had no interest in playing basketball.
Yes, it's true! Young Durant was a guy who had to have been forced to play basketball. He often recollects that at first, he had no desire at all, but the more time he spent on the court, the more he got involved in the game's culture.
Anyway, in the episodes when KD did not want to play, he was inspired by his grandmother. It was Barbara who spent most of her time with the future MVP. She explained to KD the importance of what he does and how this work will, in the future, help him become a real man. When Kevin was named NBA's Most Valuable Player, he dedicated his speech to his mother, Wanda, calling her "the real MVP." He is gracious for all of her sacrifices.
How old is Kevin Durant?
As of 2022, Kevin Durant is 33 years old. He was born on September 29, 1988, in Washington, D.C.
According to ESPN Durant began his professional basketball career with the Seattle SuperSonics in 2007 and was drafted by the Oklahoma City Thunder in 2008. He spent nine seasons with the Thunder before signing with the Golden State Warriors in 2016. Durant won back-to-back NBA Championships with the Warriors in 2017 and 2018 before departing for the Brooklyn Nets in 2019. He has been named NBA MVP twice (2014 and 2019) and has won four NBA scoring titles (2010, 2011, 2012, 2014). Durant is widely considered to be one of the best players in the world and his accomplishments continue to grow as he enters the prime of his career.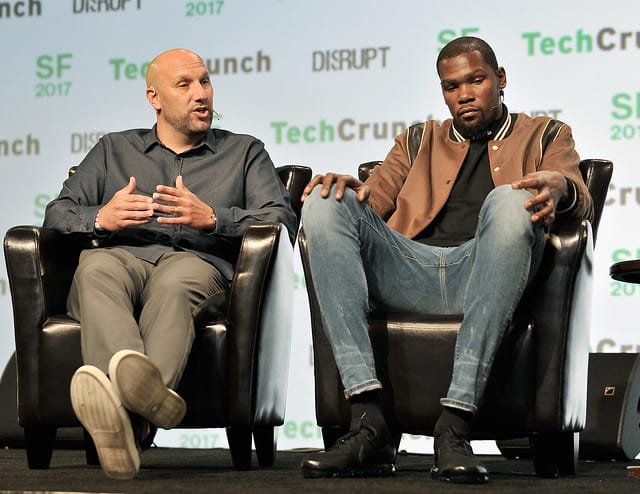 Injury, the third title, and the Nets
During the Warriors' Game 5 of the Western Conference semifinals series with Houston in 2019, KD was out of the game because of a right calf strain. Kevin was worried about his knee at first, but when he was able to put weight on it, he felt much better. Anyway, his team, the Golden State Warriors, had won 6 games in a row in his absence. Rumors that the team could get along well without him arose. Now KD is on the road with GSW to Toronto for the NBA Finals. We hope that he is ready to return from his injury.
Even if all goes well, the facts won't change. KD will be a free agent after this summer. Unfortunately, he hasn't given many pointers on staying with the Warriors.
If the warriors win another NBA title this season, Durant may want to take his talents elsewhere. Recently KD made a statement: "I'm thinking about the money; I never got the massive deal, but I know I deserve that too" Let's be honest, even if he gets the maximum contract from GSW, he will most likely get a better offer somewhere else.
An American sportswriter and podcaster, Bill Simmons, predict that Brooklyn Nets will sign Durant. First of all, New York City is the biggest possible payer. Durant could elevate his off-the-court legacy and his value on the court.
Second, the Brooklyn general manager, Scott Perry, drafted Kevin Durant out of Texas back in 2007. The relationship between KD and Perry is solid. All reports say Perry is very confident that they will get KD.
The way to NBA immortality
If Durant changes the team, it won't be for the first time. Durant is often criticized for his transition from Oklahoma City Thunders to the Golden State Warriors. He was called a "fake champion" by his haters on social media after winning the first title with GSW in 2017. Some fans say that he does not dare to take on his team. Yes, Oklahoma fans hated him, but Kevin himself got what he wanted: the team in which he could become a champion. And he had already achieved it twice.
KD is in pursuit to go down as one of the greatest in the NBA.
At the age of 30, he is still a "lethal weapon" to his opponents, with a perfect balance of speed and skills. But he still wants more, and how can we blame him? It seems evident that he will try to distance himself from the omnipresent criticism of his championships next year. He may change teams, but it will only be his choice if he decides to resign from GSW.
About the Author:
Jilian Woods is a freelance journalist and a contributing writer having more than two years of writing experience. Being a member of the EssayPro writers' team, she frequently contributes to its blog. Check out the Rhetorical Analysis Essay Example Guide done by her. Apart from her day job, you may find Jilian engaged in volunteering or doing yoga.