Whilst all the top tennis pros battle it out for the undisputable number one position on the tennis ranking, other people are interested in a more subtle, more personality-based ranking – who is good fun on social media?
When all their matches are consigned to history, all tennis players must be aware of the fact that their Instagram, Twitter, and Facebook feed will live with them forever. Here we take cross sections of all levels of players to see who comes out as cool cats and who comes across as a snooze and snore fest. But beware of course, with modern media training and 'ghostwritten' posts by highly paid influencers, we help decipher who to follow and who to ignore in this modern minefield.
Roger Federer.
To many, the Swiss Master is the absolute true greatest of all time. There is little doubt that he has the on-court stats to back this claim up, but what is he like online? His Twitter feed is very wholesome. We don't detect any signs of interference from management or influencer-type ghostwriting.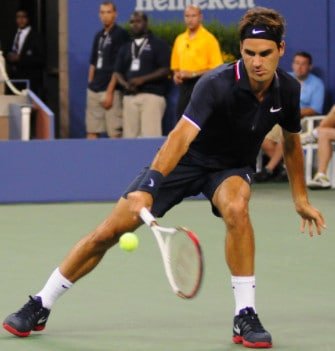 Feel the force of Federer's flick.
In interviews, the man comes across as very thoughtful with a nicely concealed passion that occasionally bursts out in his on-court play. As a teenager, he used to be a massive racket smasher until his parents banned him from the game for a few weeks. He soon learned his lesson. This passion you can just about hear underneath the basic factual pattern of his posts. He was quite late to join the Twitter party but his astonishing number of followers soon made up for that.
Serena Williams.
Serena Williams really is a social media phenomenon. She famously let it slip that she was pregnant by unintentionally posting a photo of herself pregnant online. What we learned in hindsight was that she was making a private photo diary of the size of her growing bump on a week-by-week basis. But one week three months into her pregnancy she tweeted the picture instead of filing it away. Her secret was out of the bag. But she soon came clean and admitted her little mistake. She had been planning on telling her fans soon anyway.
Serena posts sporadically, if you are a betting person, don't expect much return from betting she'll be posting any time soon. There is little promotion from her sponsors and partners, not half as much as some of the more bland and corporate players out there. With Serena's tweets, you really get the feeling she is speaking from the heart and that has helped her connect with fans all over the world, something she didn't do well in the middle of her career.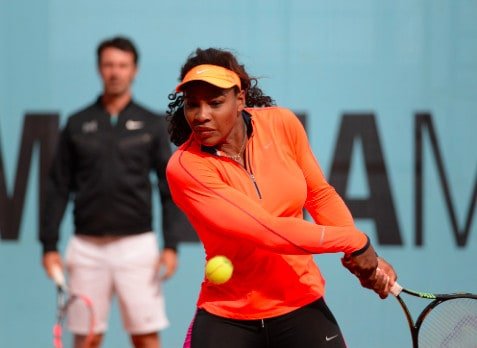 Serena bangs one in.

Serena is the first to admit that she has different personalities on the court and one of those, in her own words, is 'psycho Serena'. It is this Serena that the general sports viewing population had taken against a few years ago. But they perhaps didn't always understand the intense pressure a top-class athlete has to put themselves under to achieve at the level they achieve at. Serena had to adopt this persona to achieve her goals. Naturally, we don't see any of this Serena on her Twitter feed, why would we, she only brings that Serena out on the court.
This shows us the strength of Twitter to let us get to know the sports stars better. Serena uses her social media strength to great effect.
If you do want a giggle to try out Oracene Price's Twitter feed. Serena and Venus's mother Oracene, who is now divorced from their father and childhood Svengali and mentor Richard Williams, is a true breath of fresh air on Twitter. If you think Serena is non-corporate and genuine, you wait to read Oracene's tweets. She makes looking laid back and sounding laid back somewhat of an art form. You wouldn't believe this same woman had the personality that gave us two of the feistiest competitors, not just in women's tennis, but in all of the professional sports today.
Brad Gilbert.
Brad Gilbert is still a highly respected commentator for many channels today and he has thousands and thousands of Twitter followers. He was a great journeyman player in his day in the late eighties and early nineties. He amazingly managed to get to number 4 in the world with only winning a couple of ATP titles.
His best achievement was being runner-up in the inaugural but now defunct Grand Slam Cup where he defeated many excellent players only to lose in straight sets against the newly crowned US Open champion, the still teenage Pete Sampras.
The big thing about the Grand Slam Cup was that it was the first competition to offer one million dollars in prize money to the winner. Of course, this sounds like small fry now, but then it was huge news as the men's champions in the most lucrative singles Grand Slam competitions would still only get about 400,000 dollars in prize money. So this competition was big news. Gilbert watched Sampras hit clean service winners past him time and again.
On Twitter with his 138K followers, Gilbert is chatty and to the point. He coached André Agassi very successfully and most of his posts are coaching-based. He is prolific, blunt, and very knowledgeable. Worth following.
Janko Tipsarevic.
This former top ten player and Grand Slam semi-finalist have been plagued by injury of late. He is the proud possessor of many tattoos and his Twitter is as quirky as you would expect from a man who has Dostoevsky on his body in permanent ink. Worth a follow.
Victoria Azarenka.
Meanwhile, on the other end of the scale, Victoria really offers very little in her tweets. There is a little personality on the show, it is more a stream of retweets and emoticons. Whilst a well-judged emoticon at the end of some juicy text is great, pure emoticons can seem a little childish. We are sure in real life this former world number one and two-time slam champion is more fun than her tweets. Perhaps one to avoid.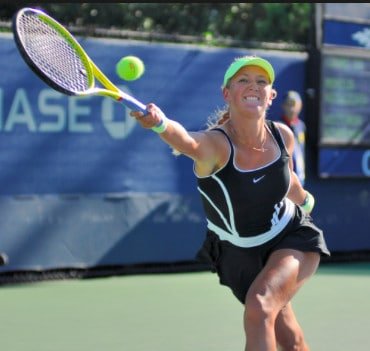 It's a stretch to find fun on Vika's feed.
Thanks for joining us on this tennis twitter round-up. Do let us know if there are any other great players we should have mentioned.