When betting on horse racing, there are a variety of factors that you should take into consideration. Hence, it is unlikely that one piece of information should take precedence over another. That applies even if the horse or jockey is in incredible form.
However, when placing a bet before or during a race meeting, you will likely consider a few potential selections. You will have to decide whether to bet primarily on the horse or the form of the jockey that is riding.
Stats show that 90% of races that take place during a meeting are won by the top ten riders in the jockey standings. That highlights how dominant certain jockeys can be and why they would be a solid bet.
Meanwhile, for individual races, the horses deemed as the favourites in the odds beforehand go on to reign victorious 33% of the time, though these wins are almost always at lower odds.
These two stats show that the best jockeys and horses do come out on top most of the time and that runners and riders with longer odds are further down the pecking order for a good reason.
When betting on horses, you also need to consider other factors such as the going and weather conditions and the race format. You can then look at the horses' form and the track record of the jockeys and trainers involved.
By looking at a jockey's past performances, you have a useful benchmark for how they might perform during an upcoming race, especially if they have been successful at a specific race meeting in prior years.
This can be very useful when betting on multiples. Top jockeys that work with top trainers may have an established record at the Cheltenham Festival, for example. You can use this knowledge to make calculated bets at longer odds.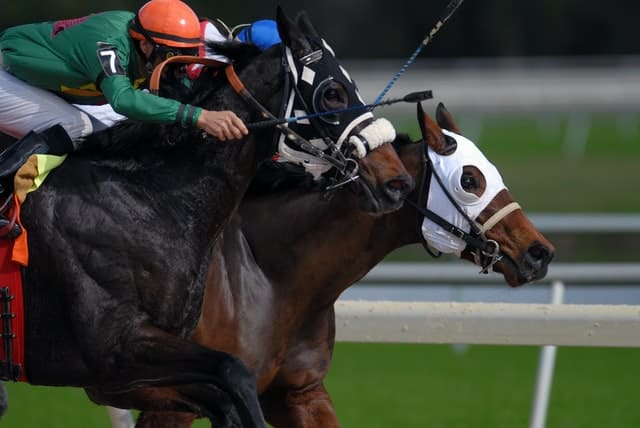 When Frankie Dettori completed his "magnificent seven" at Ascot 25 years ago, the odds of him passing the finishing line in first place in seven races stood at 25,000/1 beforehand.
That indicates the record of the jockey and the trainer should be looked at when making a bet. It may not always be the most crucial factor, but it can help you make informed bets.
Some experts even advise upgrading a horse's chance of winning based on the jockey that trainer books ahead of a race meeting. Top jockeys can be the difference between a rider coming home first or lagging behind in the home stretch.
However, betting on the horse primarily over other factors is something casual punters do every day. It is not a strategy without merit, considering the high win percentage for horses deemed favourites ahead of the race.
As you can see from cheltenhamfestival.net's tips for this year, the focus is primarily on the form of some of the biggest names with Al Boum Photo, a French-bred Irish trained horse, tipped to secure a third successive Cheltenham Gold Cup triumph.
With 28 races across a week of high-class jump racing, there are many horses and jockeys now in the final throes of preparation for the big event and punters will be assessing form books to see where best to place their money.
One of the big favourites, Epatente, recently struggled in the Christmas Hurdle but could still bounce back to secure a second Champion Hurdle on the Tuesday of the Cheltenham Festival.
Most experts agree that some horses are so good that the jockey can be irrelevant or have little influence; however, there are times when a jockey can take a great horse and the combination leads to an even better outcome than anticipated. Identifying when this could happen can take your betting strategies to the next level.
Whether you bet on the horse or the jockey is also dependent on the type of bet you make. The aforementioned multiple bets are great when there is an established record of success, but singular punts on an each-way finish can be made when you base your bet solely on the quality of a jockey or horse.
To conclude, it is always best to take on board racing tips from experts, look at the form guide and evaluate the odds to determine whether a particular horse is a good bet. You should consider the jockey and there are times when it can be a primary factor, but you should never lose sight of the bigger picture.