Many people may believe that because golf is a sport, you can wear just a t-shirt and shorts; however, a specific etiquette must be followed. While golf clothes are designed to be comfortable and loose, they also were created to give the wearer a polished appearance. You can learn more about what are the standard requirements for golf attire below.
Shirts
In general, men should wear shirts that have collars, such as polo shirts. They shouldn't wear t-shirts or button-up cotton blouses. Polos don't have to be a solid color; they can also have simple patterns or designs that look professional. Women can wear collared, sleeveless, and non-collared tops. However, the top must be modest. The shirt should always be tucked into the pants as well. You can design a unique shirt at printful.com/custom-polo-shirts .

Shoes
Regular sneakers are permissible as long as they're comfortable. Never should you wear flip-flops, sandals, heels, or boots. Although, traditional golf shoes are easier to wear on the golf field. They help give you a more stabilized swing and are more comfortable than sneakers when worn on grass. Many golf courses have started to ban golf shoes with metal spikes. Instead, your golf shoes can have plastic or hard rubber spikes on the bottom. Most golf shoes come in black, white, and brown for men. If you want a unique appearance, you can opt for socks with funky and fun patterns. Female golf shoes often have a much larger variety of colors.
Bottoms
Pants, shorts, and skirts are permissible; however, there are restrictions. For example, jeans, yoga pants, and sweatpants are not allowed. Slacks and dress shorts are very common on golf fields. If a man or woman wears shorts, they should be as long as their fingertips and modest. Jersey shorts and leggings should be left at home.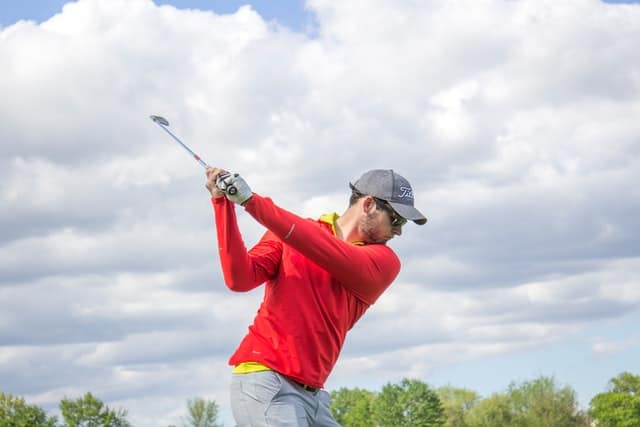 Jackets
If it is cold out, you will want to wear a sweater, vest, or windbreaker over your polo. You should never wear hoodies. Jean, leather, fur, or other overly stylish jackets should be avoided.
Accessories
The most popular accessories include sunglasses, hats, gloves, and golf bags. Typically, a glove on the non-dominant hand is worn to help you keep a tighter grip on your golf club. You might also bring a backpack or purse to hold belongings while you navigate the golf course. You can wear sport sunglasses on the field that are impervious to sweat. Baseball caps are the most popular headgear because they block the sun and don't stand out too much. Sun visors are very popular for women. However, you shouldn't wear sombreros, cowboy hats, fedoras, and other large hats at home. Beanies and bucket hats may be allowed in cold weather.
Other Tips for Golfing Outfits
Even though there are some relatively rigid rules for golf course etiquette, you can still create a fashionable look. Don't look awkward on your first day golfing. You can create custom polo shirts that look and feel great with patterns that match your style. Custom polos come in high-quality fabric, and they can be shipped straight to your door in little time. Polos can be matched with solid color slacks, pleated skirts, and dress shorts for a crisp and fresh appearance that says you're ready to tee off.