Professional football will benefit from the increasing number of states that have legalized sports betting 
By Alexander Chan
Sports betting is now legal in some capacity in 22 states and Washington, DC. Some states permit mobile betting while some states require that any sports wagering occur at authorized casinos.

The NFL experienced a ratings rebound last season after declining in previous seasons. The increasing number of states that have adopted legalized sports betting will only accelerate the NFL's ratings resurgence. Sports bettors have not been able to wager on any American team sports in the last four months. Bettors will gravitate towards television screens to follow this NFL season.

The handle for NFL games should reach an apex this season. Sports bettors will have plenty of money to invest in the NFL this season as their money has been idle over the last four months.
Legalized Sports Betting
Since the 2018 landmark decision from the United States Supreme Court that invalidated the Professional and Amateur Sports Protection Act as unconstitutional, 22 states and Washington, DC have approved the legalization of sports betting in some capacity. Just this year, sports betting became legal in Colorado, Washington State, and Virginia. The states differ as to whether to offer mobile and online options for sports betting or limit wagering to authorized sportsbooks and casinos. Overall the sportsbook industry is exploding across the country and the sportsbooks are even competing with one another to gain new customers. Sportsbooks in legal states provide new users with a sportsbook deposit bonus when they create a new account. Giving new customers free money to bet with is a common tactic to get brand new bettors on board. 
As states begin to reopen after the COVID-19 outbreak shut down life in much of the United States over the last four months, expect additional state legislatures to consider legalizing sports betting as a way to generate additional revenue. For example, New Jersey reported almost $300 million in revenue from sports betting in 2019.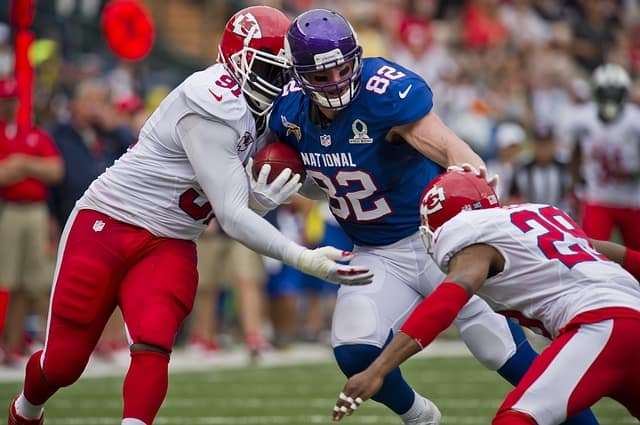 Absence Makes The Heart Grow Fonder
All American team sports effectively shut down after news surfaced regarding Jazz Center Rudy Gobert testing positive for COVID-19. The sights of vacant casinos and sportsbooks were jarring for sports bettors yearning for some type of stimulation. The absence of any American team sports should make the NFL an even more attractive viewing destination for sports bettors eager for action. 
The NFL successfully arrested its ratings decline last season. For many Americans, the return of professional football will represent a return to normalcy. Television ratings for the NFL should skyrocket this season.
Record Handle
The term "handle" in sports betting refers to the total amount of bets taken. With the spike in the number of states offering legalized sports betting, the handle for NFL wagering should hit a record this season. The number of experts who make NFL picks is bound to increase as sports betting becomes more normalized across the nation. A new wave of casual sports bettors will be flooding the market looking to bet, and looking for help betting. The volume of betting on professional football has always dwarfed the volume of betting on other American sports. In its brief history, even the XFL's handle was respectable. Sports investors should have plenty of money saved up to wager on the NFL considering that they have had no American team sports to bet on over the last four months.