As their name implies, daily fantasy sports (DFS) are a range of fantasy sports wherein contests or matches happen in days or hours than entire seasons. Some examples of DFS include basketball, baseball, and American football.
In particular, DFS players can also bet on fantasy NFL games. But, like other DFS games, you need to know the best player and team rankings to increase your chances of winning bets.
Getting Started In NFL DFS
Perhaps, you're a beginner in DFS football, and you're looking to learn the ropes about betting on fantasy matches. Conversely, you're a DFS veteran looking for a refresher course. Either way, it would help to learn about playing daily fantasy football. Keep in mind that feeding your mind with information about NFL and DFS helps increase your bets' win rates.
Here's a quick run-through on the essentials of playing NFL DFS:
Familiarize yourself with the scoring and roster formats.
Understand that player salaries matter.
Identify values in favorable matchups.
Focus on current news and trends to select high win opportunities.
Choose contests based on your bankroll.
If you still want to test the waters of NFL DFS or you're following a strict budget, consider joining free contests first. Participate in these free matches to help you start developing strategies and build lineups from those plans.
NFL DFS Rankings For 2020
You can join free NFL DFS contests to gain experience and increase your chances of winning bets. But, you can also use the best players to add to your lineups.
Here's a list of the best possible NFL DFS players to add to your 2020 roster:
At the time of writing, Christian McCaffrey plays for the Carolina Panthers as the team's running back. Some might argue that this player shouldn't be on the top of the rankings. But, he's not only a running back as he's also a wing receiver.
McCaffrey scored 182.5 half points per reception (PPR). This figure made him a top figure in DFS rankings, beating Stefon Diggs of the Buffalo Bills for the place.
Furthermore, McCaffrey is one of the highest-paid running backs in the NFL. In 2019, he logged 287 carries for 1,387 rushing yards. Moreover, this football player recorded 116 receptions for 1,005 receiving yards for the same season.
Another running back that makes the top fantasy player rankings for 2020 is Saquon Barkley.
In 2018, this New York Giants player recorded at least 15 touchdowns on 360 touches. Furthermore, Barkley recorded at least 2,000 scrimmage yards for the same season.
However, NFL DFS should be wary about putting Barkley in their lineups as the running back limped off of practice on Monday, August 24th. However, if this player maintains good health for the rest of 2020, he can become an excellent pick for NFL DFS lineups.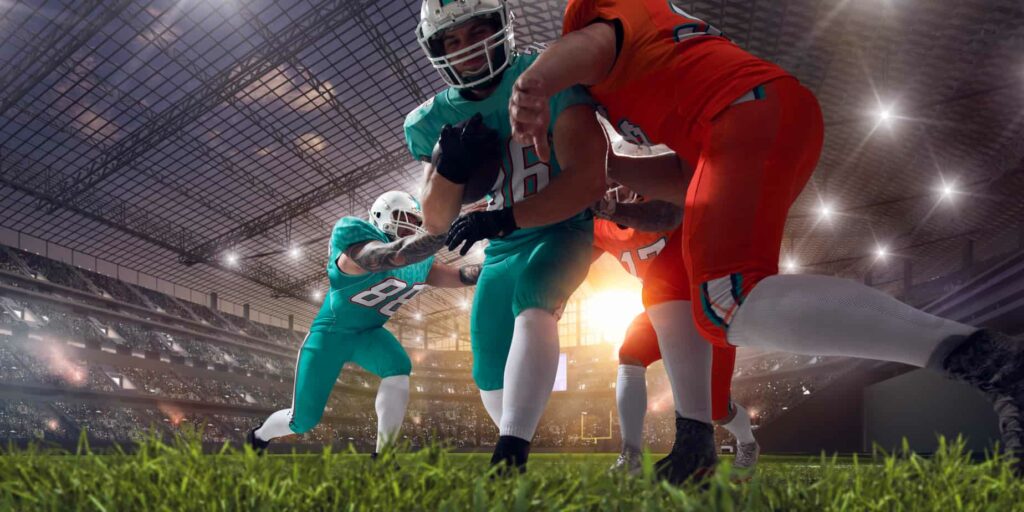 Born with the name Derrick Lamar Henry Jr., this running back plays for the Tennessee Titans at the time of writing. This player can be an excellent pick for 2020 as he recorded 1,540 rushing yards in 2019.
Hence, this figure could see several DFS players winning their bets if they put Henry in their 2020 lineups, especially with the NFL's new overtime rule. It's because this new rule guarantees both teams with direct opportunities to score. Henry's skill in rushing and receiving helps DFS teams win, allowing betters to enjoy a better-than-average profit.
Michael William Thomas Jr. plays for the New Orleans Saints as the team's wide receiver at the time of writing. Consider picking this player for your fifth or sixth position, especially if you want to play it safe.
This wide receiver has an average of 150 targets per year. Furthermore, Thomas doesn't have a record wherein he finished worse than WR5 in PPR formats. Thomas also excels in different route rankings. He recently ranked first in the crossing, out, hitch, and slant routes, making him a versatile choice in various alluring factors.
Putting Thomas in your DFS team might not make you win as much money as intended. However, the chances of you walking away from the gamble empty-handed might be slim at best because of this player's skill on the field.
Still, DFS players need to remain vigilant and look out for current news, particularly those concerning the NFL. Unprecedented events may occur, which might cause you to change relatively strong lineups.
Conclusion
Some NFL players tend to be better at playing certain roles than others. Thus, putting players like McCaffrey, Henry, and Thomas in your DFS lineups may increase your chances of winning various games. Select these players to be part of your fantasy team, and you might be looking at an increase in profit from betting at fantasy football.