Nearly five years removed from Kyrie Irving asking the Cleveland Cavaliers to be traded, the point guard has revealed he's regretful over the way he left the team.
Irving was drafted as the first overall pick by the Cavs in 2011 and helped them win a championship in 2016 alongside LeBron James. He would request a trade in 2017, having grown tired of playing second fiddle to LBJ, and would be allowed to leave for the Boston Celtics.
The seven-time All-Star appeared on an episode of I Am Athlete recently and spoke at length about his departure from Cleveland, expressing remorse over how thighs went down and claiming he reckons the team would have won more than one championship had he stuck around.
"If I was in the same maturity line and understanding of who I am, and I look back, we definitely, definitely would've won more championships," he said. "Because there would've been a better man-to-man understanding about what I'm going through. I didn't know how to share my emotions."
Irving also spoke about his relationship with LeBron. The stars kept their feud in-house and there's not much on what was happening behind the scenes before Irving left but their fractious relationship is believed to be the main reason he asked for a trade.
"We didn't talk during that time," Irving revealed. "When I look back on what I was going through at that time, I wish I did. Because it would've been a good understanding of what the future will hold for both of us and we know how much power we both had together. Me and him in the league together running Cleveland, and then being able to put a better team together every single year would have definitely been worth it. But for me, I threw all my chips in."
Irving has since joined the Brooklyn Nets, having spent two seasons with the Celtics. James signed for the Los Angeles Lakers one season after Irving left and won his fourth championship there in 2020.
The Cavs have gone through some tough times since losing Irving and James but showed this season that they could be a team about to turn the corner. They came close to making it to the playoffs, losing in the play-in tournament to bring an end to their campaign.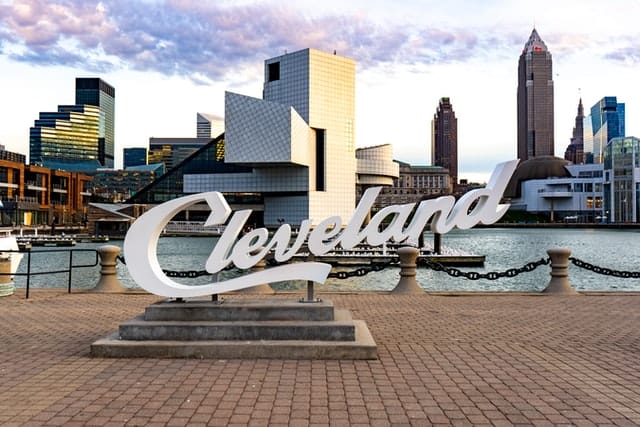 The future does look bright for the Cavs and there should be a lot more bets going their way as far as Ohio sports betting is concerned. Young point guard Darius Garland certainly thinks so.
"We're a young team, we're fun to watch, it's a lot of exciting basketball: threes, alley oops and dunks. Why not invest in us? We can only get better. We young and we lit," the 22-year-old told GQ in a recent interview.
Garland, who was born in Indiana, has also claimed to love Cleveland, as strange as it seems.
"It's a lot of food spots that's pretty good," he added. "The summers here are crazy: get on a boat and go on the lake. It's just…culture. It's a big melting pot. Everyone gets along with everyone. A lot of people say it's gloomy here all the time, but it's gloomy in New York, too, right now."
As for Kyrie, things haven't quite worked out for him since leaving Cleveland. He made enemies of Boston fans after telling them he planned to stay in free agency and then signing elsewhere. The team got to the Eastern Conference Finals while he was out injured but didn't do too well once he got back on the court.
Irving's first season in BK saw him injured in the playoffs, which definitely hurt the team's prospects. This season was one unlike any other as he hardly played due to his refusal to get vaccinated. He returned late in the season but his absence saw to a lack of chemistry that resulted in the Nets getting swept in the first round of the playoffs, by his former team Boston at that.
Former Nets player development assistant Amar'e Stoudemire agreed with Kyrie's most vocal critic, Stephen A. Smith, that the guard missing so many games damaged the team's season.
"Yeah, I think it hurt us. It definitely hurt us because we didn't have consistency enough with Kyrie to build chemistry with the group, with the team," Stoudemire said on First Take.
"He's playing only away games depending which city it is … can't play in New York … therefore we had different lineups, different matchups depending on the game schedule. So it made it difficult for us coaches to figure out who's going to play in spite of Kyrie. So it was difficult for us to manage that so yeah, it was part of that."
James Harden asked out of Brooklyn before the trade deadline, heading to the Philadelphia 76ers. Stoudemire said he isn't sure the Irving saga affected Harden personally.
"I'm not sure it hurt between James Harden and his teammates," he said. "Obviously, we couldn't build the total chemistry with the total group, with those three guys, for James, Kev and Kyrie to play at the same time. We didn't have a lot of game experience with those three guys on the court. So I can't really comment on those three guys together but it didn't help."