Nothing beats the release of endorphins when you finish your exercise routine. Or that feeling of accomplishment that comes with smashing your personal best. Exercise is beneficial in various ways, but if you're someone who wears glasses, it can often feel as though you're stuck at the starting block. Frames moving on your face, slipping with sweat, discomfort and glare… these are all issues glasses wearers face when exercising. So, what's the answer?
Here we'll explore some simple tips for wearing glasses when exercising. 
Never forget your sunglasses
If you're someone who takes to the great outdoors when exercising, then you'll know there's nothing more frustrating than having the sun shine directly into your eyes. Whether you're cycling, jogging or enjoying an outdoor training class, consider investing in a pair of high-quality sunglasses to keep your eyes protected from the UV rays and to help you stay focused on your fitness goals. Check out these stunning sunglasses from EyeBuyDirect and never leave home to exercise without them!
Nose grips are key
When searching for a pair of exercise-friendly frames, consider a pair with nose grips. If you're enjoying a particularly intense and sweaty session, then you'll want to focus on your instructor or your personal best, rather than your frames slipping down your sweaty nose. If nose grips don't appeal to you, then consider fitting a strap that fits around the back of your head. Avoiding plastic frames will also be beneficial. 
Swimmers don't have to miss out!
If you're someone who needs glasses to correct their vision, then swimming can be particularly challenging. It's tempting to move onto contact lenses if you're hitting the water, however swimming with contact lenses isn't recommended either, due to the increased likelihood of an infection. However, help is at hand! If swimming is your passion or main form of exercise then why not consider investing in some prescription goggles? No more blurred or fuzzy edges, no more worrying about bumping into people or squinting at your smartwatch. Instead, you can focus on your personal best and your technique.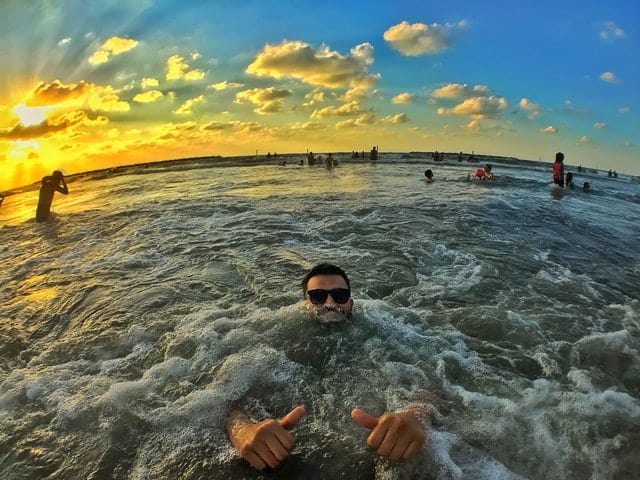 Choose a frame that fits your face
A pair of well-fitting glasses will not only look great on you, but you'll also benefit from your lenses fully. However, even well-fitted frames have the tendency to move around when we're exercising, either falling from our faces or being knocked around. So, when choosing your next pair of frames, select one that fits your face snugly. Avoid anything with a "wider frame" and look for narrower styles instead.
Lighter materials are kinder
You can expect some movement from your frames no matter what exercise you're doing. However, frames constructed from a lighter material such as acetate or titanium will be much kinder to your face. A sharp blow to the edge of your nose or the repetitive action of moving frames on your face could prove uncomfortable with a heavier frame. So, opt for something lightweight to keep the discomfort at bay.
And finally, consider a sports frame
Did you know that some brands such as Oakley, Nike and Adidas offer sports frames, specifically designed for athletes and those with a busy lifestyle? If you're someone who enjoys sports, it might be worth considering.